Featured in Outback Story 'Bred for Business'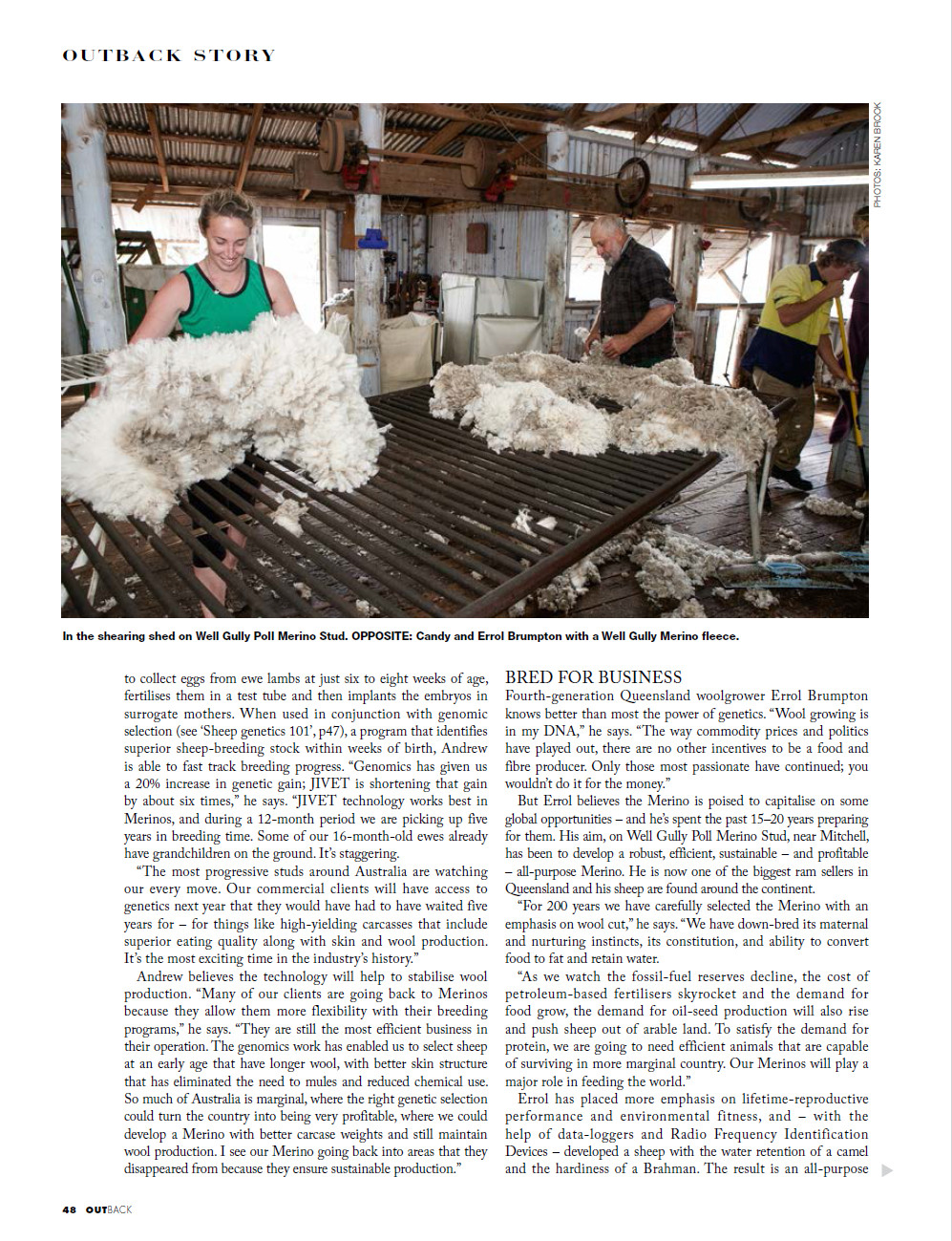 ---
Featured in Twist Magazine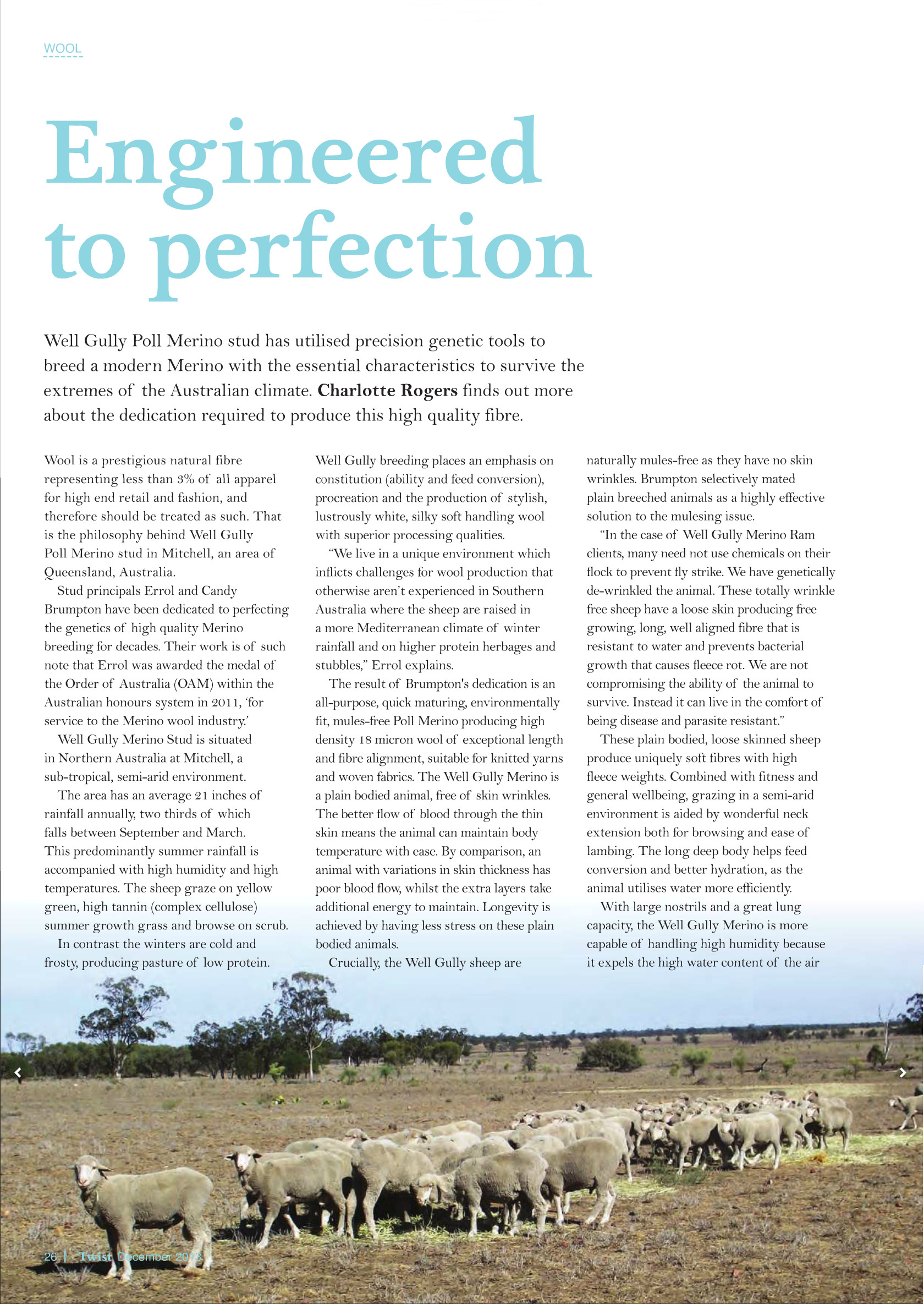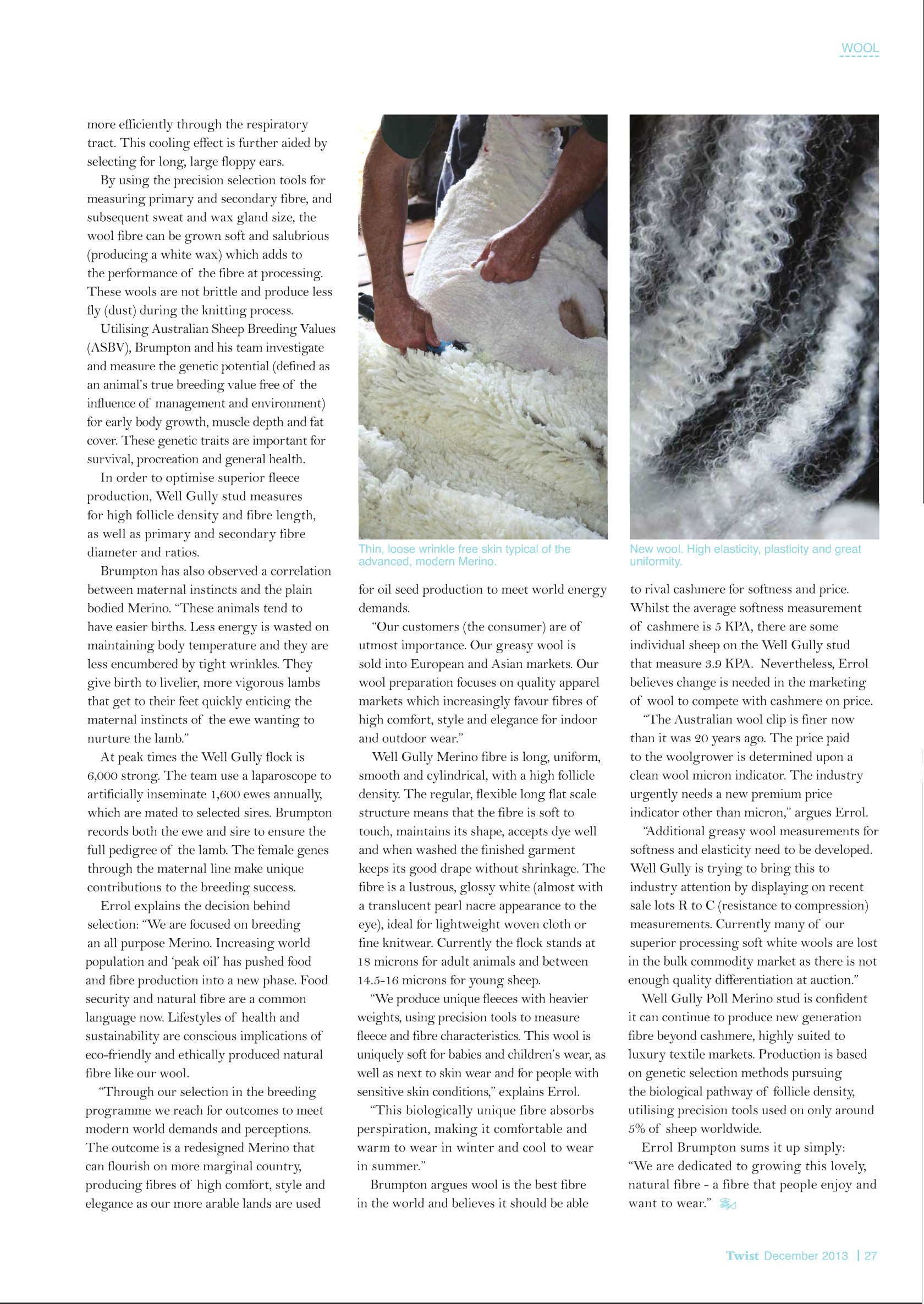 ---
Queensland Country Life Article – By Sally Cripps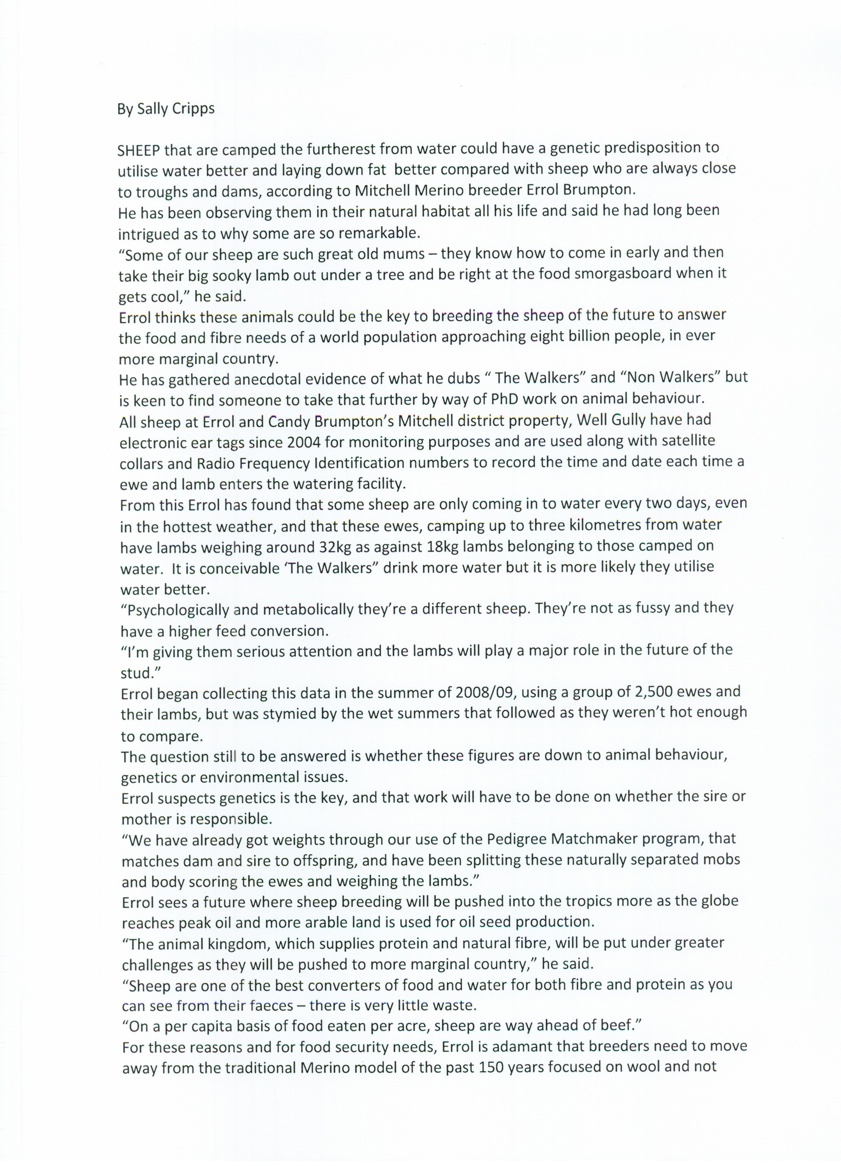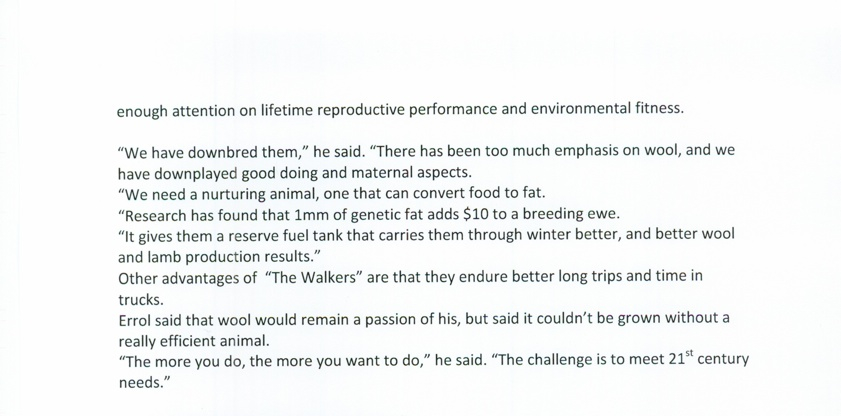 ---
Genetics offer the 'all-purpose' sheep
Rural Weekly, 4 March 2011
Errol Brumpton
In his drive to breed a modern sheep for the modern world, where labour is hard to get and minimal maintenance is the new rule, Mitchell merino breeder, Errol Brumpton OAM, thinks its high time ram buyers started making greater use of genetic selection tools.
He maintains that as Queensland's extreme hot, humid environment and low protein pastures dictate how much wool and how many lambs a sheep can produce, genetics is a key for optimising production.
The Well Gully Poll Merino principal says now more than ever, sheep need to be fast-maturing with superior carcases and wool to make lightweight, next-to-skin fabrics.
"When selecting and buying rams, subjective appraisal for conformation such as large barrel is very important, but crucial traits can be built-in with certainty by using ASBVs.
"These include the invisible genes for feed conversion and high lamb survival to develop the 'all-purpose sheep' – accessed through yearling weight, yearling fat, muscling, numbers of lambs weaned, worm egg counts and post-weaning weight breeding values.
"These are powerful genes that can be used to target the core weaknesses of a flock for further commercial gain. They're also cumulative, lasting and relatively cheap."
Recently honoured with an Order of Australia Medal for his services to the Merino wool industry, Errol says the sheep is an incredible animal and its real value will again be realised as the world's population increases and shortages of protein and fibre loom.
The Well Gully Poll Merino flock is not a closed flock and never will be, according to Errol.
"We're always looking for trait leaders and superior genes that will excel, especially in worm resistance, eye muscle depth and fat depth – which all contribute to constitution and lamb survival.
"It's important to monitor the Sheep Genetics website to keep tabs on what superior animals are coming through and the Sheep CRC website to keep up with science and the new breeding and management tools."
He says real gains can be made, and quickly.
"A lot of our northern clients in the Longreach, Muttaburra and Hughendon regions had wool clips in the 22-23 micron range in the 1990's; within three years we fined them down to 20 microns, and now they have more bales than before of wool less than 19 microns.
"However, at the same time, by scanning stud rams for positive fatness, muscling and early growth rates we've been able to inject these genes into these flocks. Subsequently, lamb survival and flock constitution have shot up."
Many central Queensland sheep properties are now setting up 'breeding battery' flocks featuring higher lambing rates and better carcase traits to capitalise on the current demand for lamb. By turning-off the wether lamb portion to specialist finishers instead of retaining them as woolcutters, Errol notes that this 'releases' feed to help join ewes at younger ages, and run and sell more ewes. It also introduces more flexibility into the farm business.
"In our Central Queensland unique environment we need to be adaptive thinkers.
"We've developed sheep resistant to flystrike and fleece rot; we've responded to the market demand for finer, better processing wools; and we're moving towards measuring wool cuts on the basis of 10-12% of body weight, rather than kg/head, to ensure ewes have enough reserves to rear lambs year-in and year-out on low protein sub-tropical grasses.
"But there's a lot more we can all do – and I think it's high time that more people placed more emphasis on using ASBVs when selecting rams. They're a wonderful tool for making faster, lasting gains in flock productivity and enterprise profit."
The Sheep CRC, through its world-first Information Nucleus program, and its work to evaluate the use of Genomics for the Australian sheep industry, is helping to accelerate productivity gains.
The Information Nucleus consists of a series of flocks totalling 5,000 ewes, located at eight research sites in widely differing environments around Australia. Each year, these ewes will produce progeny by 100 young and proven Merino, maternal and terminal sires.
The progeny are extensively measured and assessed for current and new hard-to-measure traits in meat and wool quality, parasite resistance and reproduction.
This information is being used to:
Enhance the accuracy of Australian Sheep Breeding Values (ASBVs) for current traits
Contribute to the development of ASBVs for new traits
Validate the use of Genomics (DNA-based genotyping) for current and new traits
Develop breeding values that combine phenotypic and Genomic information
Producers will be able to use the developments in new genetic technology and genomic information to advance their breeding objectives and achieve more rapid and targeted genetic gain.
Fast facts: Well Gully Poll Merinos
Flock number 1106 est. 1974
2,400 ha located north of Mitchell in SW Queensland
Average annual rainfall – 21″; near 63″ recorded over last 12 months
2,500 registered stud ewes, of which 1200-1400 are in an AI program each year
Adult stud flock micron – 18.2
Well Gully has had mules-free sheep for 5 years
Offer 700 sale rams per year, which have been sold to all sheep-regions of Australia
---
Producer receives OAM for service to industry
Article from Rural Weekly 18 February 2011
Errol Brumpton is one of a mere handful of Australians from the Maranoa region to receive the Order of Australia Medal. The farmer who runs his sheep property 'Well Gully' 20km outside Mitchell, received notification of his award for his service to the merino sheep industry in a letter just before Christmas.
"I'm really touched by this honour," Mr Brumpton said.
"This award really belongs to my wife and three girls who have sacrificed a lot for me to pursue my passion. Without my friends and clients all over Australia and the world putting their faith and trust in me we wouldn't have this award bestowed upon us. It's a great thing for the merino industry and for the local district."
Mr Brumpton is a great believer in the growing value of the merino sheep for not only its wool, but for its meat, milk and skin value as well. He said it will play a major part in clothing and feeding the world as populations increase and fossil fuels become in shorter supply. He has been working for years on breeding and genetics, with the goal of producing sheep which are not only producers of quality wool but produce more meat per kilogram of feed and are resistant to disease.
"As we reach peak oil production and people become more health, lifestyle and environmentally conscious, people are going to seek out natural fibres," he said.
"It's important what we're doing with genetics. We're finding sheep that are worm resistant and fly proof. With modern day fertility techniques we can speed that process up."
Mr Brumpton is an advocate of attracting young farmers back to the land.
"The only way to attract people in any field is if there's a reward at the end of the day," he said.
"Since the 1950s it hasn't been very rewarding and if you take the fun out of farming then people aren't going to persevere. If there's a lot of hard work and no reward then you are going to have a brain drain from the country to the city."
However, he sees a light at the end of this tunnel.
"Anyone starting in sheep has a very bright future," he said.
"The merino is a great converter of vegetation into meat, fibre and milk. Of all breeds, the merino is least affected by photo-period (day length) which means it's an all year breeder and producer of milk unlike other animals such as poultry and cattle."
Mr Brumpton is a proponent of food self-sufficiency and believes that we as a country need to grow and eat more of our own food.
"I think the first line of defence for a country should be food self-sufficiency – we shouldn't be a net importer of food," he said. "We have the best environment in the world for food production and we should be able to rest assured that any food we import won't be as chemical and residue free as the food we produce here in Australia."
The merino is going to play a large part in that future.
"If it wasn't for the merino sheep we wouldn't have an Australian sheep meat industry," he said.
---
Longreach ram trial a success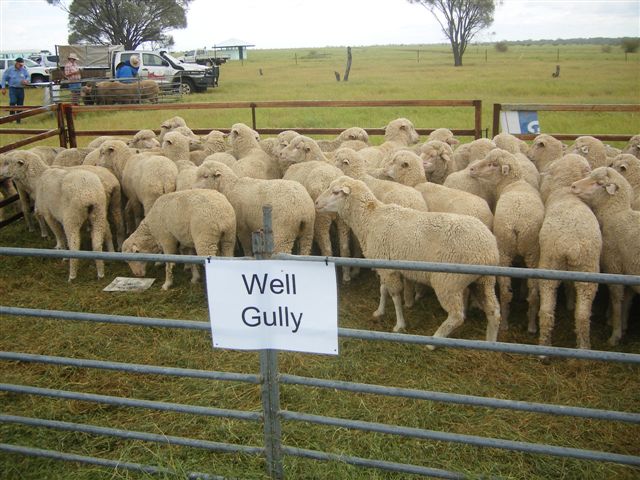 By Amy Phillips from Longreach 4730
Friday, 26/02/2010
The results are in for the Longreach Merino sire evaluation trial in central-west Queensland. The trial, which pits some of the best stud breeders from the east coast of Australia against each other, has seen a Queensland producer perform best. The two-year study was part of the Australian Merino Sire Evaluation program and it was the first time it had ever been run in northern Australia. Executive officer of the Australian Merino Sire Evaluation Association Ben Swain says it was one of a few trials that are running at the moment.
"Sire evaluation operates across 10 different sites in Australia.
"We basically take rams from a whole range of studs and join them using artificial insemination to around 50 ewes.
"We then take the progeny through a pretty lengthy process of assessing both the objective characteristics and visual characteristics.
"Some of the assessments including fibre diameter through to breech wrinkle."
The trial was held at the Rosebank Research Station near Longreach.
It included nine rams from Queensland, New South Wales and Victoria.
Ben Swain says the Well Gully stud ram performed well in this trial.
"The Well Gully ram here today in this trial has performed well across a whole range of indexes.
"So he's obviously a well rounded sheep and he suitable to a whole range of production systems."
Rick Keogh is a stud breeder from Blackall in central west Queensland and also the chair of the Longreach trials.
He said northern merino producers have been privileged to hold the trial but don't know whether it will happen again.
"I'd like to think the chances of another trial happening at Longreach were high but at the same time there is a cloud over the Rosebank facility and we don't know whether the Queensland DPI will let us use it again.
"But certainly there has been plenty of interest in this trial and I know more Queensland stud producers would like to participate if there was another one held."
To view the Longreach Site Report – Click Here