25 February 2020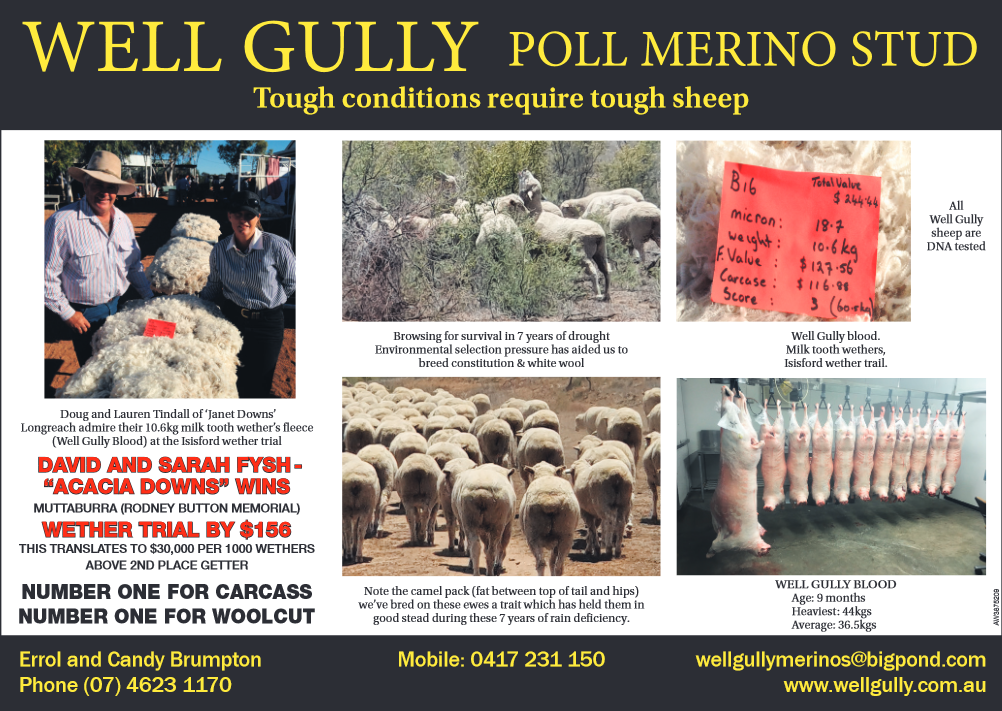 ---
19 February 2020 – Well Gully Featured in Queensland Country Life
You can find the original articles here:


---
26 July 2018 – 1st Stage Catalogue Sold, 2nd Stage Dispersal Sale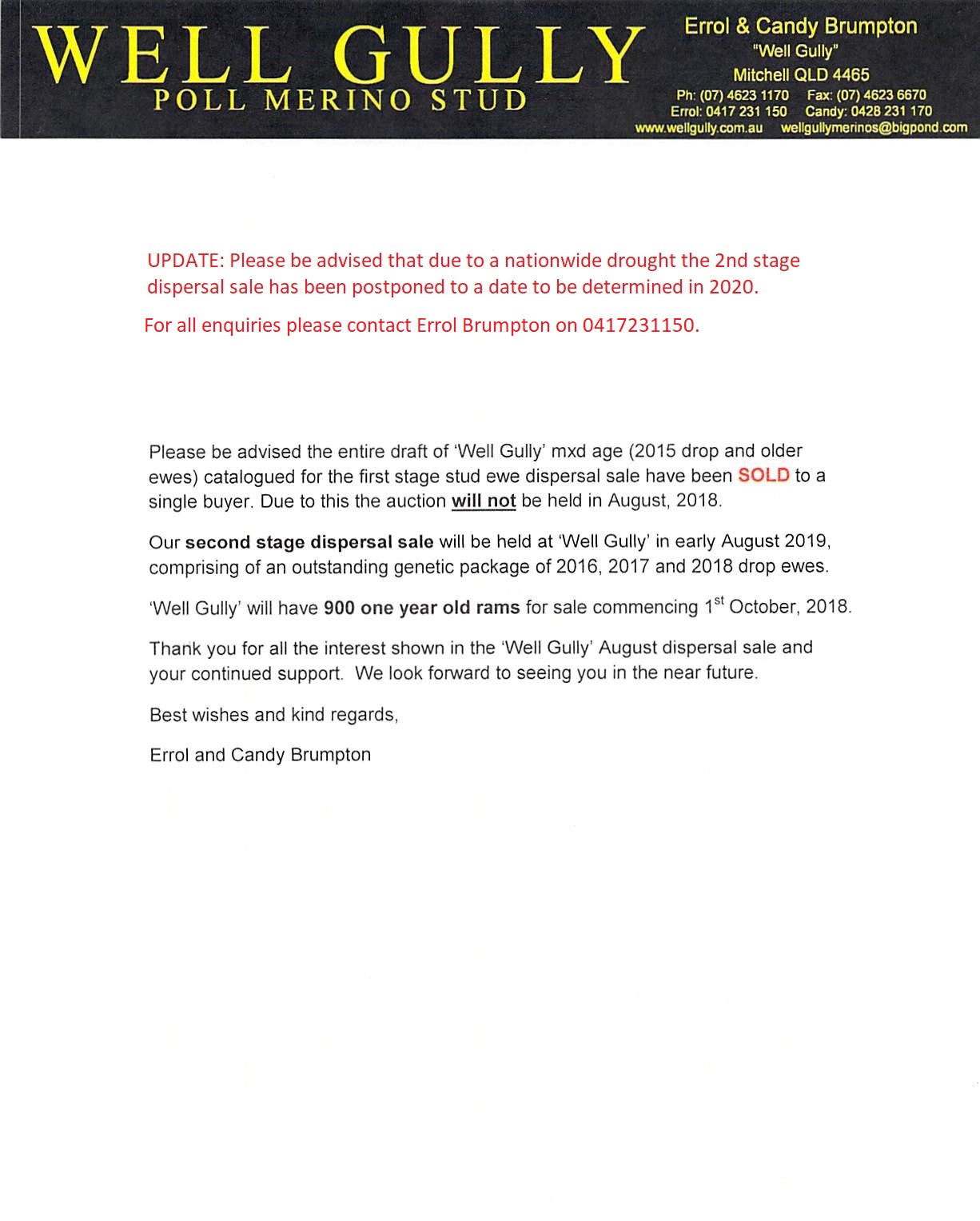 ---
1 June 2018 – 1st Stage Dispersal Sale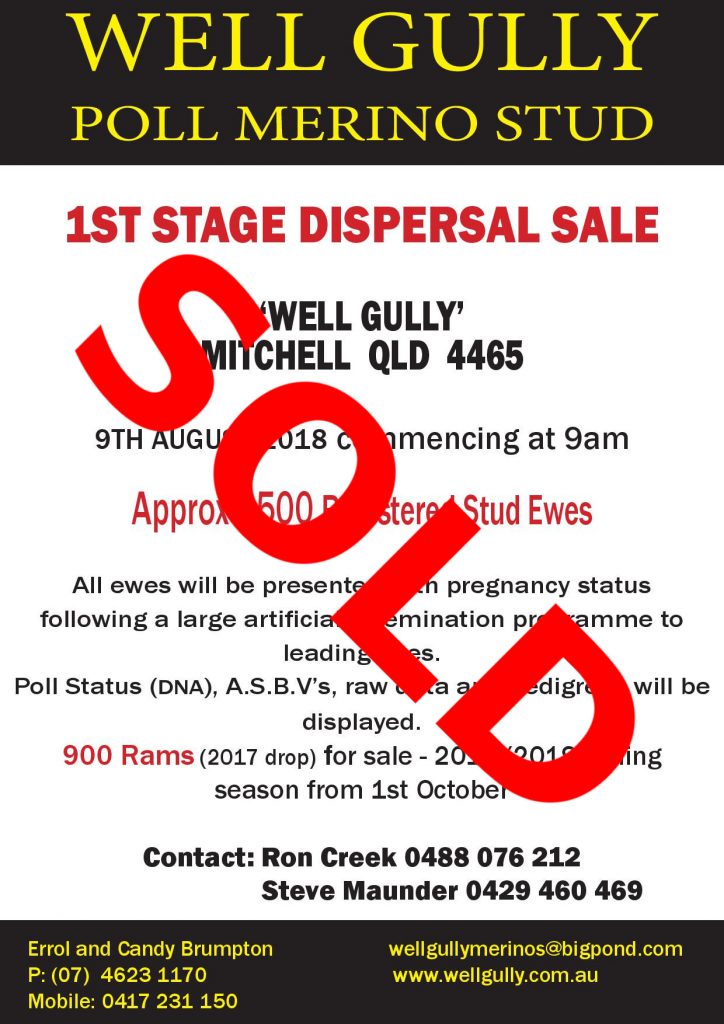 Click the links below to download
Sale Flyer – Australian Wool Network
Welly Gully client Acacia Downs wins wether trial
---
15 Febuary 2016 – Letter from Stuart Mitchell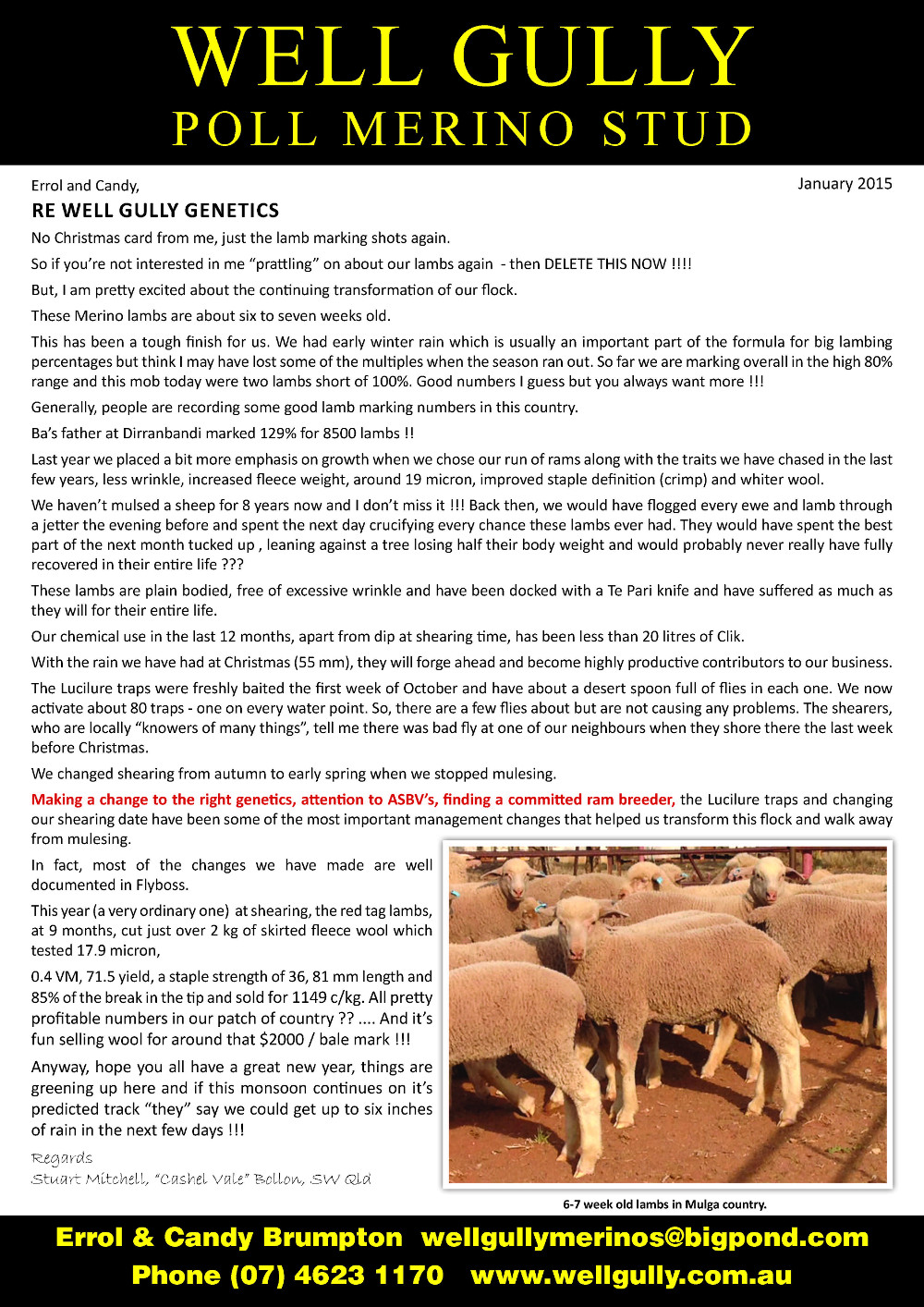 ---
15 Febuary 2016 – Letter from Michael Palmer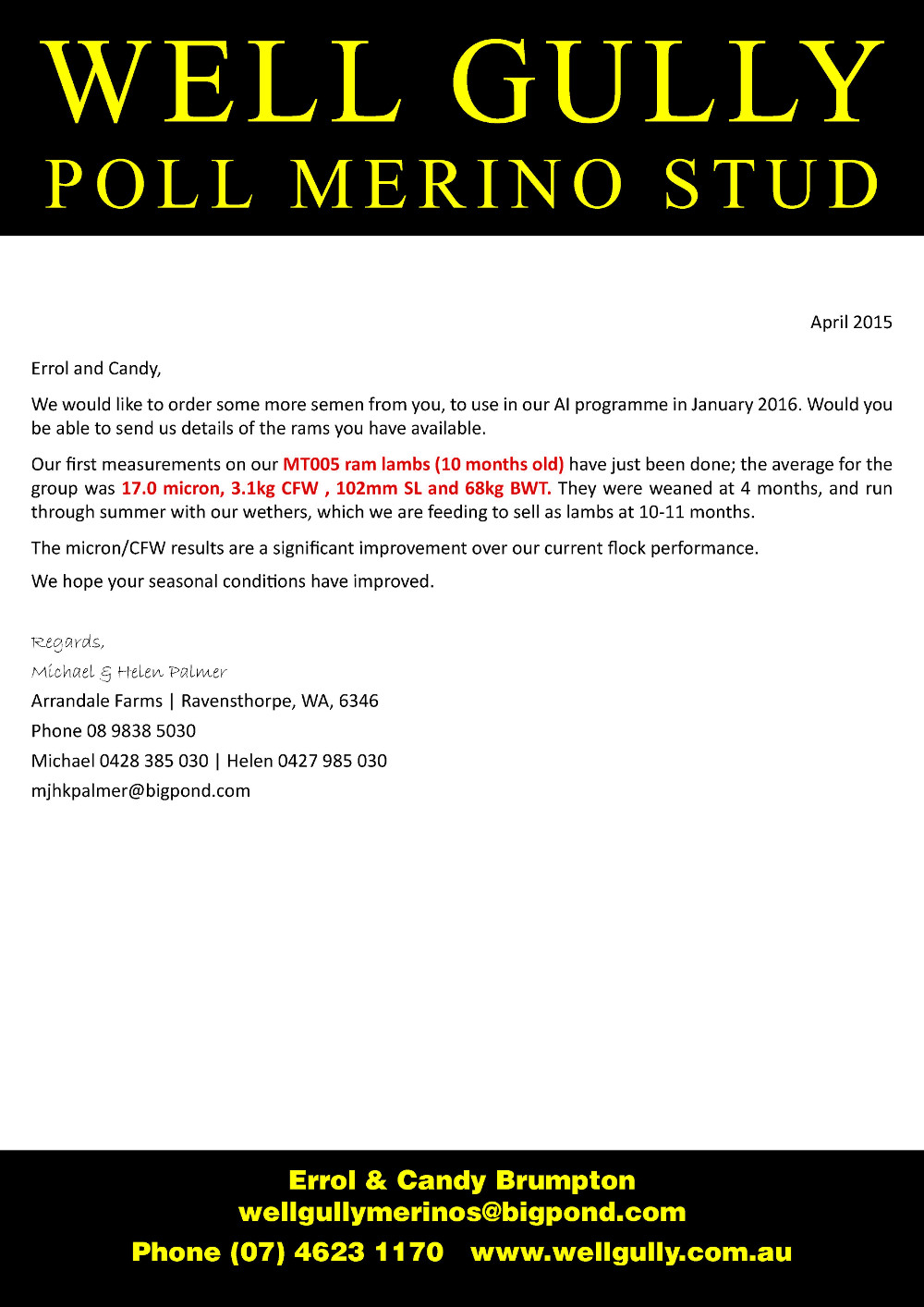 ---
24 November 2015 – Letter from Matt and Sarah Berlyn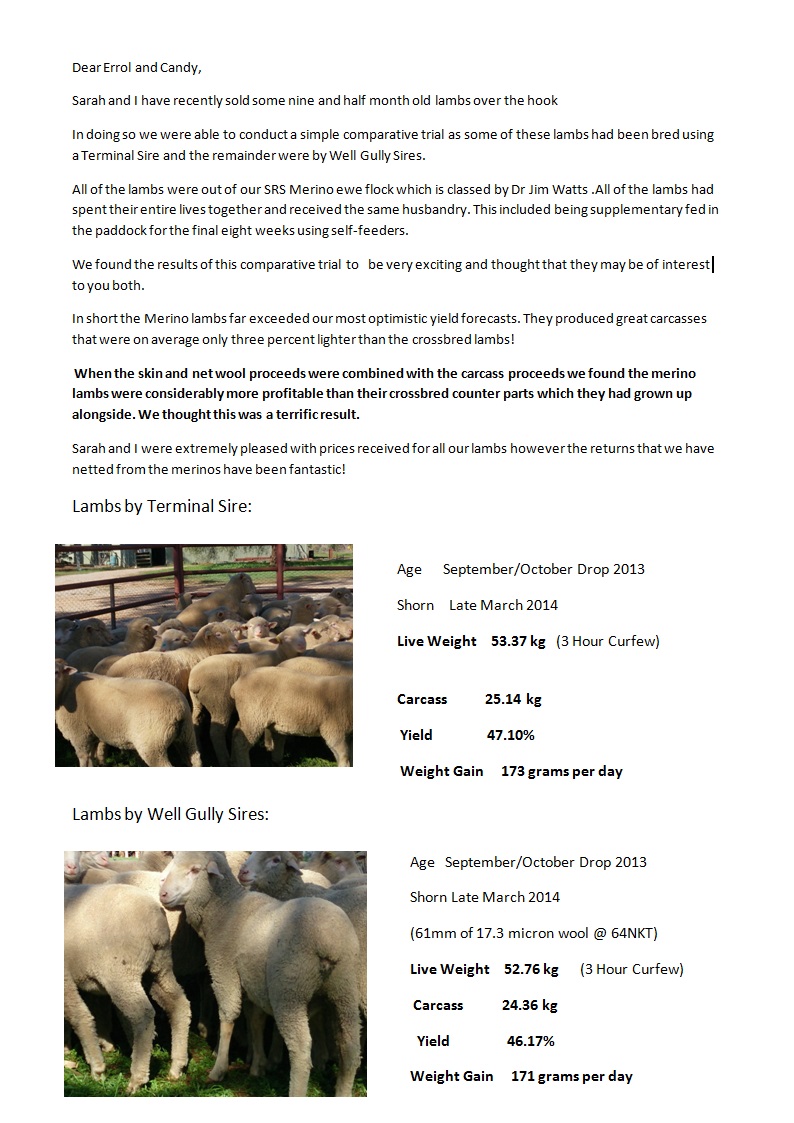 ---
Tim Williams and his son Lachie from 'Banff Downs' Morven Queensland, purchased this ram for $10,000 and another ram for $5,000, in January 2014.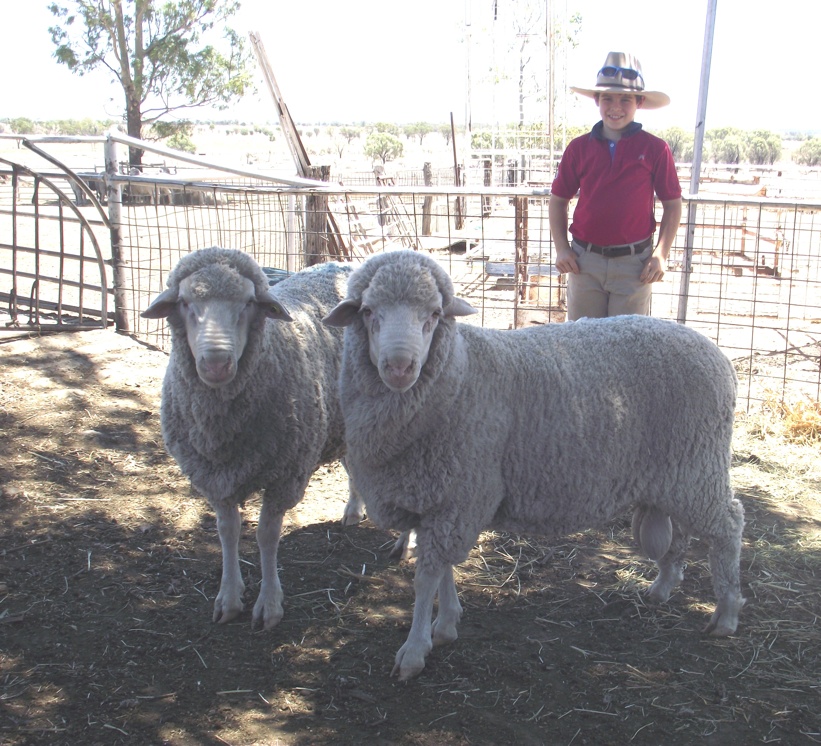 This is a photo of both rams sold to Tim William. This photo is of his son Lachie with both the rams they purchased for $10,000 and $5,000.
---
Featured in Twist Magazine
This is an international fibre magazine called 'Twist' magazine, who did a feature on us.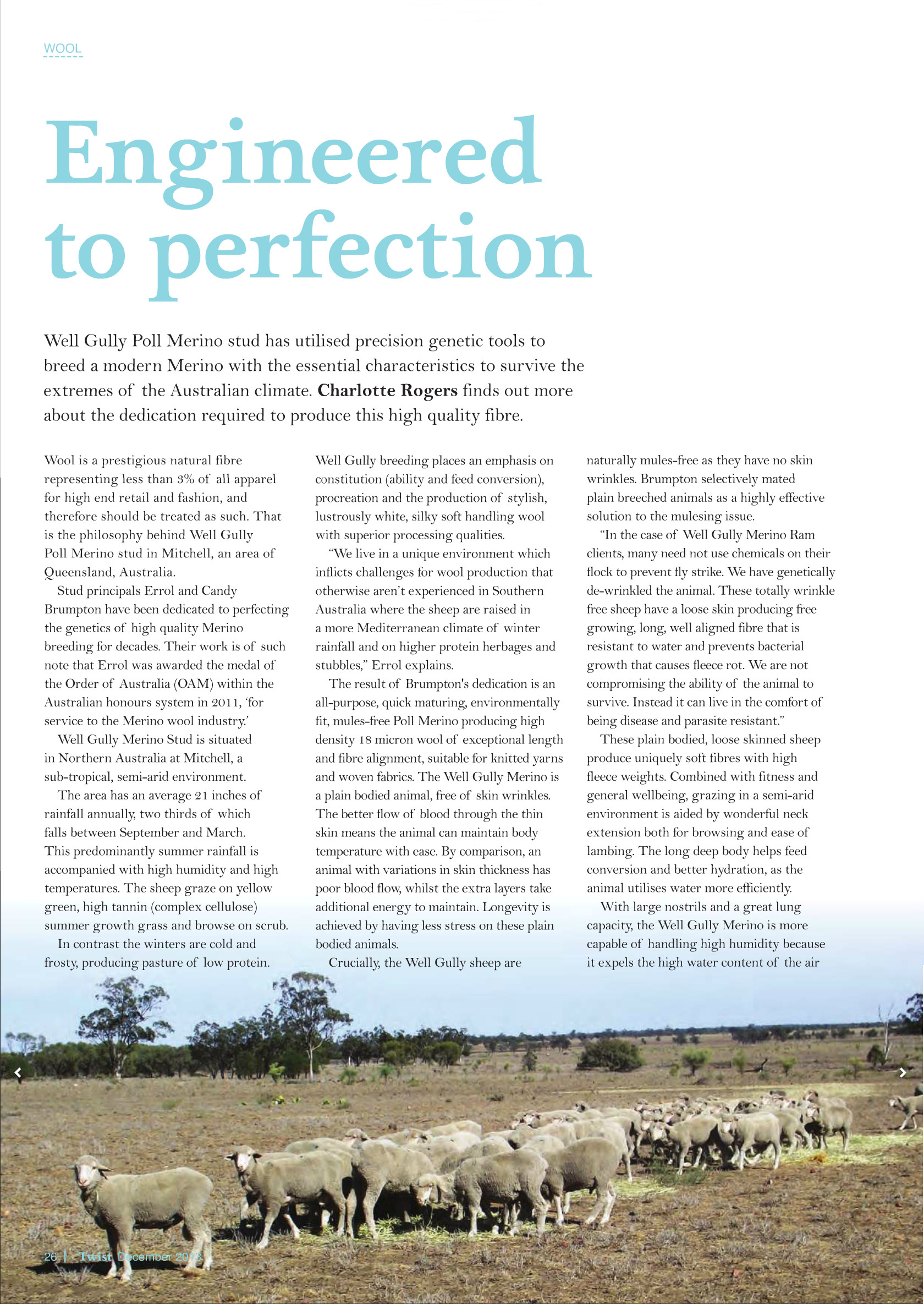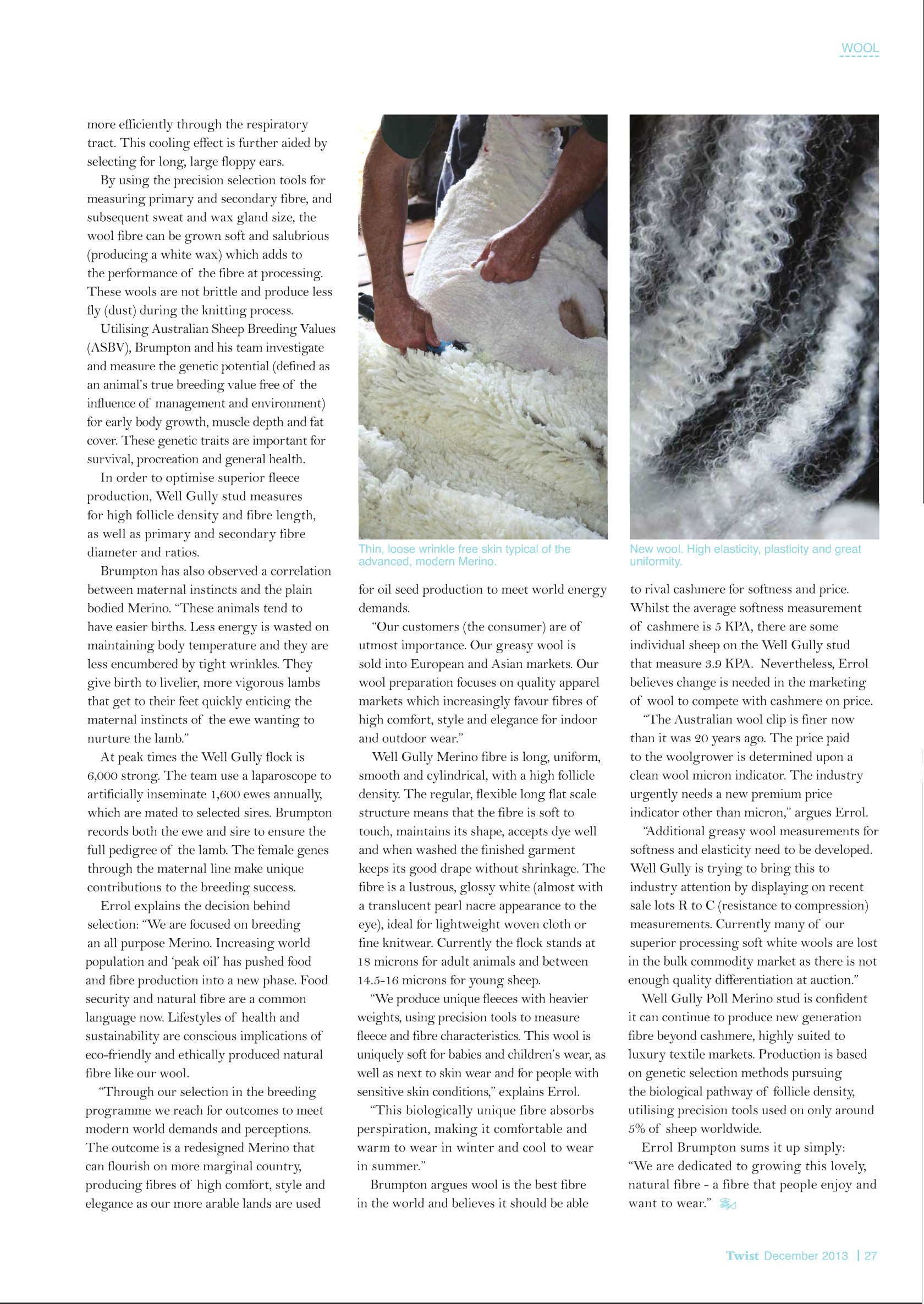 ---
---
18 February, 2011 – Producer receives OAM for service to industry
Article from Rural Weekly 18 February 2011
Errol Brumpton is one of a mere handful of Australians from the Maranoa region to receive the Order of Australia Medal. The farmer who runs his sheep property 'Well Gully' 20km outside Mitchell, received notification of his award for his service to the merino sheep industry in a letter just before Christmas.
"I'm really touched by this honour," Mr Brumpton said.
"This award really belongs to my wife and three girls who have sacrificed a lot for me to pursue my passion. Without my friends and clients all over Australia and the world putting their faith and trust in me we wouldn't have this award bestowed upon us. It's a great thing for the merino industry and for the local district."
Mr Brumpton is a great believer in the growing value of the merino sheep for not only its wool, but for its meat, milk and skin value as well. He said it will play a major part in clothing and feeding the world as populations increase and fossil fuels become in shorter supply. He has been working for years on breeding and genetics, with the goal of producing sheep which are not only producers of quality wool but produce more meat per kilogram of feed and are resistant to disease.
"As we reach peak oil production and people become more health, lifestyle and environmentally conscious, people are going to seek out natural fibres," he said.
"It's important what we're doing with genetics. We're finding sheep that are worm resistant and fly proof. With modern day fertility techniques we can speed that process up."
Mr Brumpton is an advocate of attracting young farmers back to the land.
"The only way to attract people in any field is if there's a reward at the end of the day," he said.
"Since the 1950s it hasn't been very rewarding and if you take the fun out of farming then people aren't going to persevere. If there's a lot of hard work and no reward then you are going to have a brain drain from the country to the city."
However, he sees a light at the end of this tunnel.
"Anyone starting in sheep has a very bright future," he said.
"The merino is a great converter of vegetation into meat, fibre and milk. Of all breeds, the merino is least affected by photo-period (day length) which means it's an all year breeder and producer of milk unlike other animals such as poultry and cattle."
Mr Brumpton is a proponent of food self-sufficiency and believes that we as a country need to grow and eat more of our own food.
"I think the first line of defence for a country should be food self-sufficiency – we shouldn't be a net importer of food," he said. "We have the best environment in the world for food production and we should be able to rest assured that any food we import won't be as chemical and residue free as the food we produce here in Australia."
The merino is going to play a large part in that future.
"If it wasn't for the merino sheep we wouldn't have an Australian sheep meat industry," he said.
---
26th September, 2010
Dear Clients,
RAMS WILL BE AVAILABLE FROM 3 OCTOBER, 2010.
There have been many good news stories coming out of industry forums lately and what it all boils down to is "there's dollars in Merinos". Never in living memory have sheep been so valuable.
Some people decided to abandon the Merino and go into alternative enterprises – however since 2002, our company along with numerous industry analysts have tried to encourage producers to do cost of production (COP) on these other breeds.
Put simply, prime lamb production is only profitable in a grain belt where animals can be turned off at approximately 16 weeks without supplementary feeding. (This was spelt out at a Muttaburra Field Day in 2007). At current values (using fairly conservative prices for wool) a meat sheep enterprise eg Dorper will need an annual 210% lambing percentage to equal that of a fine wool merino flock weaning 90%. The major profit driver is surplus sheep sales and huge demand for sheep meat both internationally and domestically will only continue well into the future.
Of course a 210% annual weaning just doesn't happen, exemplifying the crucial need to do the COP. A gross return of $5 per kilo might sound very attractive to the hardworking grazier but it is a deceptive figure and he will be doing himself a disservice if he does not go that extra yard and do a full cost of production analysis.
Often when the word merino comes up most people think of wool and overlook the fact the merino has always played a major role in prime lamb production. Australia's forty million merino ewes have been the most important element in meeting the growing demand for sheep meat. The ABC Landline programme on the 29th August, this year said it all:
"if we didn't have Merinos, we wouldn't have an industry".
Merino ewes are the most dominant maternal line in Australia – 90% of the ewes used in meat sheep production are merinos. As I wrote in my 2004 newsletter, 99.9% of sheep meat produced comes directly from merino wethers and ewes, so it is only a matter of time before this current demand outstrips supply.
So you may well ask what we have been doing at "Well Gully" to make sure our clients are in a good position to benefit from these changed circumstances?
"Well Gully" has achieved several firsts in the past twelve months, clearly demonstrating the "Well Gully" bloodline is one of the most progressive blood lines in Australia for meeting current market conditions. Much of this has occurred because of the massive use of artificial insemination(AI); by participation and cooperation with Meat and Livestock Australia and the sheep CRC in joint projects such as the Information Nucleus Flock (INF), Merino Select (recording of breeding values); Meat/Wool interface project and Sire Evaluation Trials.
A "Well Gully" Sire, MT005 has performed magnificently in the INF and he projected his status as an impact Sire even further with the splendid performance by his offspring at Longreach, demonstrating he is an exceptional all rounder in all the production traits (the money making components of high meat, high wool, high lambing, high worm resistance thus disease resistance and outstanding constitution). MT005 has certainly done the "Well Gully" stud proud as he has offspring now from the north at Hughenden to Bruny Island Tasmania in the south and from Armidale in the east to Katanning in Western Australia.
"Well Gully's" Northern Australian Sheep family (NAS) are now trait leaders on the Sheep Genetics data base for muscle, fat, yearling weight, adult weight, number of lambs weaned and yearling staple strength. In addition they are mules free. eg Sire NAS 327 has a large yearling weight of 10.6, translated to his offspring, this quick growth rate on his lambs would return a producer 5.3 kilos per lamb or $29.15 per lamb more than the average lamb, or 5.3 tonnes per 1000 lambs, equalling $29,150.00 more than the average flock of a thousand lambs. Even more profit can be added by their earlier turnoff time.
The main point I am emphasising is the importance of quick maturity. Large muscle and fat depth are powerful genes for high lamb survival. And this is of crucial importance in our fairly harsh pastoral environments.
As well, the future for fine wool looks exceptionally exciting and given that fine wool isn't as vulnerable to currency volatility as our medium to strong micron wools, a strong – and strengthening – Australian dollar shouldn't have as great an impact on prices.
Another major highlight and a first for the Australian wool industry was the identification of several "Well Gully" sires with wool testing softer than cashmere.
Cashmere sells for 12.8 times the price of 18 micron wool as it has an average softness measurement of 4.5 KPA as apposed to the average for 18 micron wool of 10.6 KPA. "Well Gully" Sire MT627 tested 3.1 KPA along with 11 other "Well Gully" sires averaging 4.2 KPA.
As affluence returns to our major wool importing countries in Europe and with the rise of an affluent class in China, garments which can be worn next to the skin are going to be in big demand.
All in all, the future of the Australian Merino looks not only assured but a very exciting industry to be involved in.
With very best wishes,
Errol Brumpton
---
BACKGROUND INFORMATION:
Body Growth – Fast Maturity:
Queensland's short seasons require quick maturing animals. Leading plant breeders, botanists and agronomists are breeding plants to suit grain farmers and vegetable growers for quick maturity for our rainfall pattern of short seasons. Animals, too, need to have progressive major genes for 300 day (10 months) growth. With the use of modern scanning and measurement equipment and other selection tools we have been able to identify and harness these powerful genes in our sheep breeding.
Constitution:
The genes for constitution, disease resistance and worm resistance are intertwined and highly correlated to the physical attributes of the animal. Well Gully's plain bodied sheep with long necks (1/3 of the length of the body) carrying a thin skin producing long fibres which bundle together for efficient body temperature maintenance have made it possible to produce an animal of hardy constitution.
Fertility and Fat:
Our sheep are enriched with genes for high feed conversion and lamb survival. Dr. Alex Ball explained at a Muttaburra district field day in 2007 the importance of fat in lamb survival. Modern equipment and recording has allowed us to identify sheep carrying this specific gene for positive fat trait. The NAS in particular has a superior positive fat measurement which is correlated to vigorous alert (quick to their feet) lambs at birth. The ewes' high butterfat milk is nutritionally superior, giving the lambs that first drink so important to survival.
Mules Free – Non Mulesing:
Breeding plain breeched sheep is a highly effective solution to the mulesing issue. From the selection and measurement for thin skin, high follicle density we have evolved a plain bodied sheep without tight pin wrinkle. These non 'ribby' skins are thin and loose, producing high numbers of long, fine, evenly sized fibres resistant to fly strike.   These skins are different from thick skins with their hardened fibrous tissue layers that suffer ulcerated dermatitis from moisture, so attracting blowflies.
Simply put, these sheep do not require mulesing and many thousands of Well Gully blood sheep are grazing across the Australian landscape today, unmulesed, with their wool attracting demand from processors requiring wool from non-mulesed sheep.
The NAS is a bare breeched animal – this is a different genetic trait from the plain breech and wasn't very common until we discovered and introduced this powerful trait. This gives us an edge to cater exponentially for consumer trends favouring natural fibres ethically grown and eco friendly.